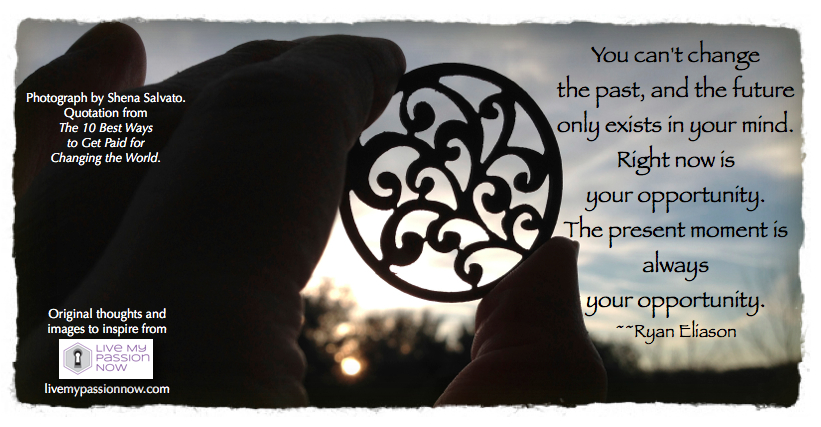 I hope this finds you well!  To begin the new year, I dedicated lots of time and energy to decluttering  my home.  This not only opened up space and reminded me to treat my home as sacred, but I discovered lots of little gems that had been tucked away.  One of those was a pair of intricate wood earrings I had received as a birthday gift from my sister-in-law.  One of the earrings had broken, and I had stashed them away to fix "someday".  Upon investigating the broken earring, I realized that, because of its fragility, it was beyond repair.
So what did I do with it?  I couldn't change the fact that it was broken and beyond repair, and it didn't feel right to just throw this beautiful gift in the garbage, so I  took the opportunity in the present moment and photographed it.  I situated it in my fingers so that it didn't appear to be broken, and I held it up against the winter sky, just as the sun was setting.  I got lost in the creative process, and was so grateful, not only for this gift, but for the gift of it being broken.  If it hadn't broken, and if I hadn't felt hesitant to separate from it, I probably never would have taken the time to tap into my passion for photography.  I probably would never have seen that winter sky through the lens of that beautiful wooden design.
I've paired that photograph with a quotation from Ryan Eliason, Business Coach for Changemakers, and I've attached it as a gift for you.
Living our passions can be such a process, and often making a commitment to one thing can lead us to another.  Such as it was for me, committing to the decluttering, finding something that needed attention, directing that attention in a creative way, then sharing it with others.  I often hear my father's voice speaking to me, "Find something beautiful and share it."
So when is your opportunity to do something you're passionate about?
If you're an entrepreneur, are considering starting your own business, or have friends or family members who are entrepreneurs, check out Ryan Eliason's free webinar series happening now through February 24th.  It began yesterday, but you can catch the replay of this and the other webinars if you can't make it to the live calls.  Over 60,000 people from at least 50 countries have opted in for Ryan's offerings, and as one of his clients, I can tell you that he walks his talk, is fully committed to creating positive change in the world, and always over-delivers.  You will get incredible value from his free webinars, and he's also sharing a free book and mind map.  You can access it all here: Visionary Entrepreneur Empowerment Training.
Back to decluttering: once I finished photographing the earring, I thanked it for giving me this opportunity and placed it on top of the glowing logs in our wood stove, watching as it turned to fuel to heat our home.  I turned the other earring into a pendant for a necklace, and I now wear and enjoy it often.  Committing to decluterring created opportunities for creative pursuits that I'm passionate about but don't often make the time for.
If you're looking to open up some of your passions by clearing some clutter, check out the work of the folks at Breathing Room: Declutter Your Home and Heart.
And if you're ready to turn your passion into a business that will create positive change in the world, check out the Visionary Entrepreneur Empowerment Training.  The next webinar  (Cultivating the Entrepreneurial Mindset of Success) starts today, February 12, at 2 PM EST, but the replay will be available and there will be new webinars and case studies through February 24th.
Wishing you your best,